On a routine scouting mission, Splat spotted the fateful signal: a radio wave from a distant, inhabited planet in need of fun and games.
After identifying the planet as "Earth" from the "Sol System," the Splaturnites knew that one very special Splaturnite would need to journey to the distant land to share their party expertise. Splat volunteered.
As Splat's spaceship barreled through space at near lightspeed, Splat watched the spectacle from the observation deck. Excitedly, he identified a solid landing area and prepared his party-making tools.
Splaturnites delight in squishing and splatting their beings, so while entering the atmosphere, he fired the thrusters again and exploded into the earth, producing a deep crater in Ada, Okla., which still today glows with Splaturn's gamma radiation.
Splat was ecstatic to have reached his destination. He gathered his pizzas, lazers and sports equipment and began the search for the perfect party spot.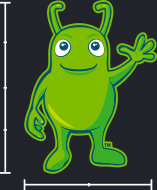 SPLATURNITE PROFILE NO 827283
NAME: SPLAT
PLANET OF ORIGIN: SPLATURN


There were very long days on Splaturn. In fact, Splaturn turned so slowly that, in each revolution around its star, Splaturn only rotated four times. That means in every year on Splaturn, there are only four days, and as a natural result, there were birthday parties on Splaturn every day! In fact, on any given day on Splaturn, about 25% of all Splaturnites celebrated their birthdays. Naturally, the Splaturnites grew to be experts in throwing birthday parties and having fun.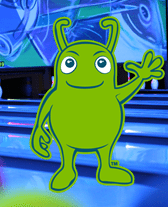 SPLAT'S EARTH PASSPORT
NAME: SPLAT
LIVES IN: ADA, OKLAHOMA
HOMETOWN: SPLATURN
Splat found his ideal party spot at Lazer Zone in Ada, Oklahoma and is still there today. A party-alien through and through, Splat can always be found near a birthday party. To meet Splat and learn his planet's party traditions, book your party at Lazer Zone today!
Do you want to know what life is like on Splaturn and learn more about the people of Splaturn? Find your Splaturn name, get your Splaturn Passport and more here!